PRESS RELEASE

Geneva, 10 May 2019 – An updated assessment by the CITES programme Monitoring of Illegal Killing of Elephants (MIKE) has confirmed that poaching continues to threaten the long-term survival of the African elephant.
MIKE evaluates relative levels of illegal killing based on the Proportion of Illegally Killed Elephants (PIKE). This is calculated as the number of illegally killed elephants found, divided by the total number of elephant carcasses encountered by patrols or other means, aggregated by year for each site. PIKE levels above 0.5 means that more elephant deaths reported were due to illegal killing than other types of death.
The evidence reveals that the Proportion of Illegally Killed Elephants (PIKE) peaked in 2011 at 0.77, when an alarming 10% of African elephants were poached. It then steadily declined through 2017 to 0.53 and remained relatively unchanged in 2018.
Such high PIKE levels are of concern because even in well-established and protected elephant populations, the annual losses due to illegal killing and other mortalities would not be compensated by birth rates. Many African elephant populations are small and fragmented and not well-protected, making them even more vulnerable to poaching. As PIKE levels remain above 0.5 in Africa, the number of African elephants in some countries continues to decline.
African elephant populations have fallen from an estimated 12 million a century ago to some 400,000, according to the most recent estimations contained in the 2016 IUCN/SSC African Elephant Status Report.
"Illegal killing of African elephants for ivory remains a significant threat to elephant populations in most of the range States. At the same time, the human population of Africa has grown tenfold, from 125 million to 1,225 million, creating competition for land with elephants." said CITES Secretary-General Ivonne Higuero. "We must continue to reduce poaching and illegal trade in ivory and find solutions to ensure the coexistence of elephants with local people. This means strengthening law enforcement, reducing demand for illegally sourced ivory and securing the livelihoods of people living with elephants. The international community should further expand its work with the African range States to find solutions that work both for the elephants and for local communities."
International trade in elephant ivory has been banned by CITES since 1990. Opinions differ between countries about whether this ban should continue or not. African countries where elephant populations are sufficiently healthy and sustainable argue that they should be permitted to resume the ivory trade, among other things, to generate funds for the conservation of elephants. The African elephant and the debate over the ivory trade will be a major item on the agenda of the next triennial CITES Conference of the Parties (CoP18), originally planned for May in Colombo, Sri Lanka, but to be rescheduled for a later date.
The MIKE findings
The MIKE programme has been established under the Convention on International Trade in Endangered Species of Wild Fauna and Flora (CITES). The 183 Parties to CITES will review MIKE's findings at CoP18.
MIKE operates in a large sample of designated sites spread across the range of African elephants, Loxodonta africana, and Asian elephants, Elephas maximus, in 30 countries in Africa and 13 countries in Asia. MIKE data is collected in designated MIKE sites by law enforcement and ranger patrols in the field. When an elephant carcass is found, site personnel try to establish the cause of death and other details, such as sex and age of the animal, status of ivory, and stage of decomposition of the carcass. These data are submitted to the CITES MIKE programme for analysis.
A database of more than 19,100 carcass records has been assembled to date (2003 – 2018) for MIKE sites in Africa. A data set that consists of 3,377 records of elephant carcasses found between 2003 and the end of 2017 in 12 range States in Asia has also been compiled. These datasets provide the most substantial information base available for the statistical analysis of the levels of illegal killing of elephants.
In 2018, 53MIKE sites reported data to the MIKE Central Coordination Unit. All the MIKE sites in Eastern and Southern Africa submitted reports, while 12 of the 16 sites in Central Africa and 15 of the 18 sites in West Africa submitted reports. In 2018, the total carcass records received were 1,235, of which 520 were recorded as illegally killed.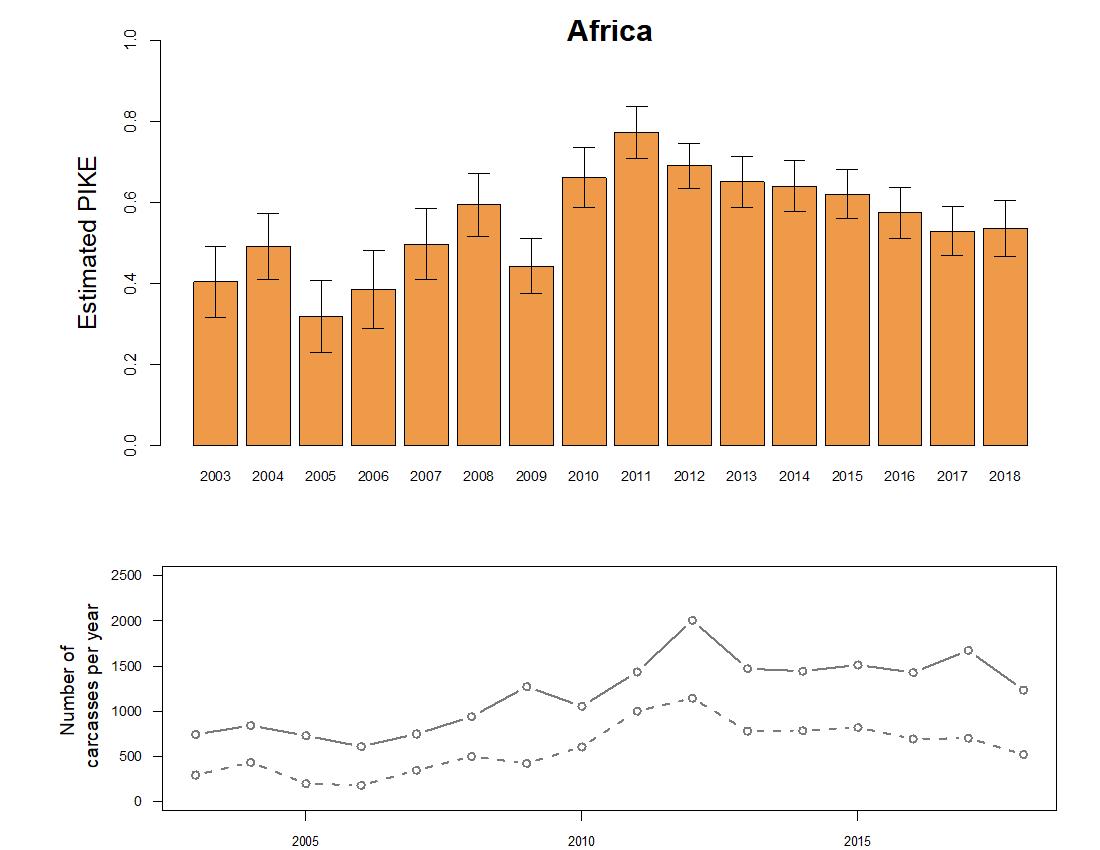 Figure 1. A) PIKE trend in Africa with 90% confidence intervals, based on 19,139 reports of elephant carcasses (illegally killed or otherwise) reported for the period 2003-2018. B) The total number of carcasses reported by year, irrespective of cause of death (solid line); and total number of carcasses of elephants illegally killed reported by year (dash line).
To better understand these trends, MIKE uses statistical models to identify potential drivers of illegal killing intensity. Specifically, strong correlation was found between ivory prices and the annual variation in PIKE, while site-level variation was correlated with poverty density (number of poor people/km2) and estimated adequacy of law enforcement. Strong evidence that PIKE decreases with decreasing levels of national corruption was also found.
As in all previous MIKE analyses, governance (as represented by the Corruption Perception Index) continues to emerge as an important national-level predictor of elephant illegal killing. The consequences of bad governance are likely to manifest themselves throughout the ivory supply chain, facilitating the movement of illegal ivory from the site all the way to the point of export. As pointed out in the previous reports, governance is highly correlated with levels of human development, making the effects of each difficult to tease apart. It is likely that there is a two-way causal relationship between governance and human development, whereby limitations in one appear to preclude improvements in the other.
The MIKE trend analysis also provides insight into current elephant illegal killing levels in each African sub-region:
Eastern Africa. The subregional PIKE estimate increased from 0.23 in 2017 to 0.32 in 2018, although the 2018 value is still within the bounds of error for 2017 and is very similar to the 2016 figure. The dip in PIKE in 2017 is attributed to the 2016 (November) – 2017 drought in Kenya, which affected the Tsavo Conservation Area and Samburu-Laikipia MIKE sites. Depending on the severity, drought can increase the number of deaths due to natural causes, thereby reducing PIKE despite there being no change in underlying illegal killing rates.

Southern Africa. PIKE increased from 2016 to 2017 and remained relatively unchanged in 2018. The increase in PIKE from 2016 to 2017 was largely due to a rise in PIKE values at several sites in the region, such as Chobe National Park (Botswana), Kruger National Park (South Africa), South Luangwa National Park (Zambia), and Niassa Game Reserve (Mozambique). The PIKE estimate for the subregion in 2018 remains unchanged due to the high PIKE values in Niassa Game Reserve (Mozambique) and South Luangwa National Park (Zambia). Conversely, Etosha National Park (Namibia) reported 20 carcasses in 2018, none of which were illegally killed.

Central Africa. PIKE levels remain concerningly high, with an average PIKE estimate of 0.73 over the last three years. The MIKE site in the subregion with a particularly high level of PIKE and more than 20 carcasses reported in 2018 is Nouabalé-Ndoki National Park (Congo), with a PIKE of 0.95, while Minkébé National Park (Gabon) and Virunga National Park (Democratic Republic of the Congo) reported 16 and 12 illegally killed carcasses respectively, and no natural mortality carcasses. By contrast, two sites reported 20 or more carcasses per year in both 2017 and 2018 and had a reduced PIKE in 2018: Lopé National Park (Gabon) from 0.20 to 0.11 and Garamba National Park (Democratic Republic of the Congo) from 0.72 to 0.30.

West Africa. The PIKE estimate decreased from 0.75 in 2017 to 0.46 in 2018, although the 2017 and 2018 confidence intervals still overlap. About 70% of all the carcasses in the subregion (58 carcasses reported in the subregion) were reported from Pendjari National Park and Biosphere Reserve (Benin) in 2018, compared to 29% of the 40 carcasses reported in the subregion in 2017. This high contribution to the total number of carcasses from a single site, and the PIKE level of 0.25 for the site in 2018, may be responsible for the subregional trend, given that the PIKE for this site reduced from 0.42 in 2017 to 0.25 in 2018.
However, it is particularly hard to make reliable inferences based on the year-to-year trend in this sub-region due to the low level of reporting from several sites. Various factors may impact the ability of the sites to report as well as the quality of the data; including the level of monitoring and protection of populations at the various sites. In addition, the populations are small, fragmented and isolated. Compared to the other subregions, West Africa has the total lowest number of carcasses reported – 797 over 16 years. Nonetheless, it is possible to say that the PIKE value of 0.46 in 2018 is significantly lower than the PIKE values being reported in 2014-2016, which averaged 0.91. The MIKE programme will undertake targeted actions to improve the understanding of the situation relating to MIKE implementation in West Africa.
The current MIKE report and its 2018 addendum are posted as official CoP18 documents on the CITES website.
For more information, please contact Michael Williams at michael.williams@un.org or Liu Yuan at yuan.liu@un.org.

Read original Press Release:
https://www.cites.org/eng/news/new-report-highlights-continued-threat-to-african-elephants-from-poaching_10052019